This is your personal invitation to join Acorn Stairlifts tomorrow for a specially produced VE Day 75th Anniversary Singalong concert.
If you're planning your own VE Day 75th Anniversary celebration – either at home or in a setting such as a nursing or care home – then this nostalgic free-to-view singalong is the perfect musical accompaniment and a chance to join in and wave your Union Jack!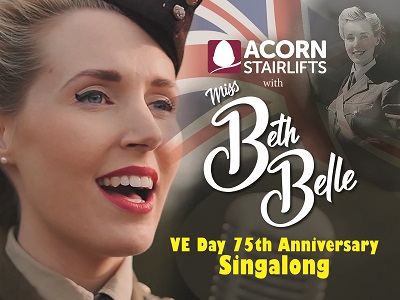 Many of Acorn Stairlifts' customers are from the Second World War generation or grew up when the conflict was still fresh in the national memory. That's why we wanted to pay a personal tribute and express our gratitude, coming up with the idea of a VE Day anniversary concert.
We've joined forces with our 'next door neighbour', Steeton Court Nursing Home, a wonderful 70-bed facility just a stone's throw from our West Yorkshire head offices and factory. With lockdown restrictions in place due to coronavirus, staging a live concert was out of the question, but producing a show to watch online opened it up to an international audience.
We commissioned terrifically talented 1940s and vintage vocalist Miss Beth Belle to perform the show, singing 15 evergreen wartime favourites while dressed in period costume. Her set list includes many memorable hits such as 'Sing As We Go', 'Boogie Woogie Bugle Boy', 'White Cliffs of Dover', 'Chattanooga Choo Choo', and of course the Vera Lynn classic, 'We'll Meet Again'.
It starts and finishes with a montage of family snapshots supplied by residents of Steeton Court and their families. Many of the songs have been requested by and dedicated to residents for whom they hold special memories. An 'interval section' also features moving video messages from family members of residents who haven't been able to visit their loved ones in person for several weeks.
But the show isn't just for Steeton Court; it will be available online for anyone to watch from 8am tomorrow, Friday May 8th, and will appeal to anyone who enjoys the wonderful music of the 1940s and the memories it recalls. The show is free, you don't need to register, fill in your details or download an app – there are no strings.
Just visit www.acornstairlifts.co.uk/blog where you'll find a password and a link to the show. Click on the link, enter the password, then sit back and sing along. The 55-minute show isn't being 'broadcast' at a specific time – instead you can just log on at a time to suit you, perhaps to fit in with your own VE Day Anniversary celebrations. You might want to connect your internet-enabled device (such as your laptop or tablet) to a TV to enjoy the show on a bigger screen, but there's no need to.
Here at Acorn we've had a sneak preview of the show and we think you'll love it. Operations director Nick Wilson said: "As an installer of stairlifts for many years, I was extremely privileged to speak with our customers and hear some incredible stories about the Second World War. We owe so much to this generation and their story must not be forgotten.
"We want as many people as possible to enjoy this one-off musical celebration and tribute to those whose combined efforts brought about Victory in Europe on May 8th, 1945."
So remember to come back here any time after 8am tomorrow to join Miss Beth Belle and the residents at Steeton Court for our VE Day Singalong show.